Unlimited Prepay Distribution - GenMobile Master Agent
About Gen Mobile
Gen Mobile is a U.S prepaid mobile carrier with a mission to help consumers of all generations stay affordably connected to friends and family around the world. With plans starting at $10 per month, we strive to offer you the best deal in wireless with our BYOD program.
Offers 2 Great Networks to Choose from: AT&T and T-Mobile
Highest SPIFF in the Industry
ILD to 100+ Countries
Plans For Every Budget
Customers Are Not Disconnected if they can't pay their bills, FREE TEXTING for 15 days!
Wifi Calling
Great Customer Service
Apply NOW to become GenMobile Authorized Retailer
Unlimited Prepay Distribution - (314) 771-5797 - Sales@unlimitedprepay.com
GenMobile Dealer Support Line: (833) 436-6624 - Office Hours: 7am - 5:30pm PST - email: gmdealer@dish.com
Please Note: PIN/Password of Customer is Required
NEW! 5/23/23
Gen Mobile Tools on epay
4/11/23
How to Activate on epay
3/15/23
IMEI Compatibility Checker
3/1/23
How to Pitch Genmobile
GenMobile SIM Activation on Vidapay
GenMobile Refills/Top Ups on Vidapay
Genmobile Dealers Resources
Plan Features

GENMOBILE BLUE & PINK NETWORK PLANS
Genmobile PINK & BLUE include Nationwide Talk & Text - Global Text - Calling to 100+ Countries - International Calling Credit ($5 for the $20 & $30 Plans AND $10 for the $40, $50 and $60 Plans)
Standard GenMobile BLUE (AT&T Network) & PINK (T-Mobile Network) Dealer Compensation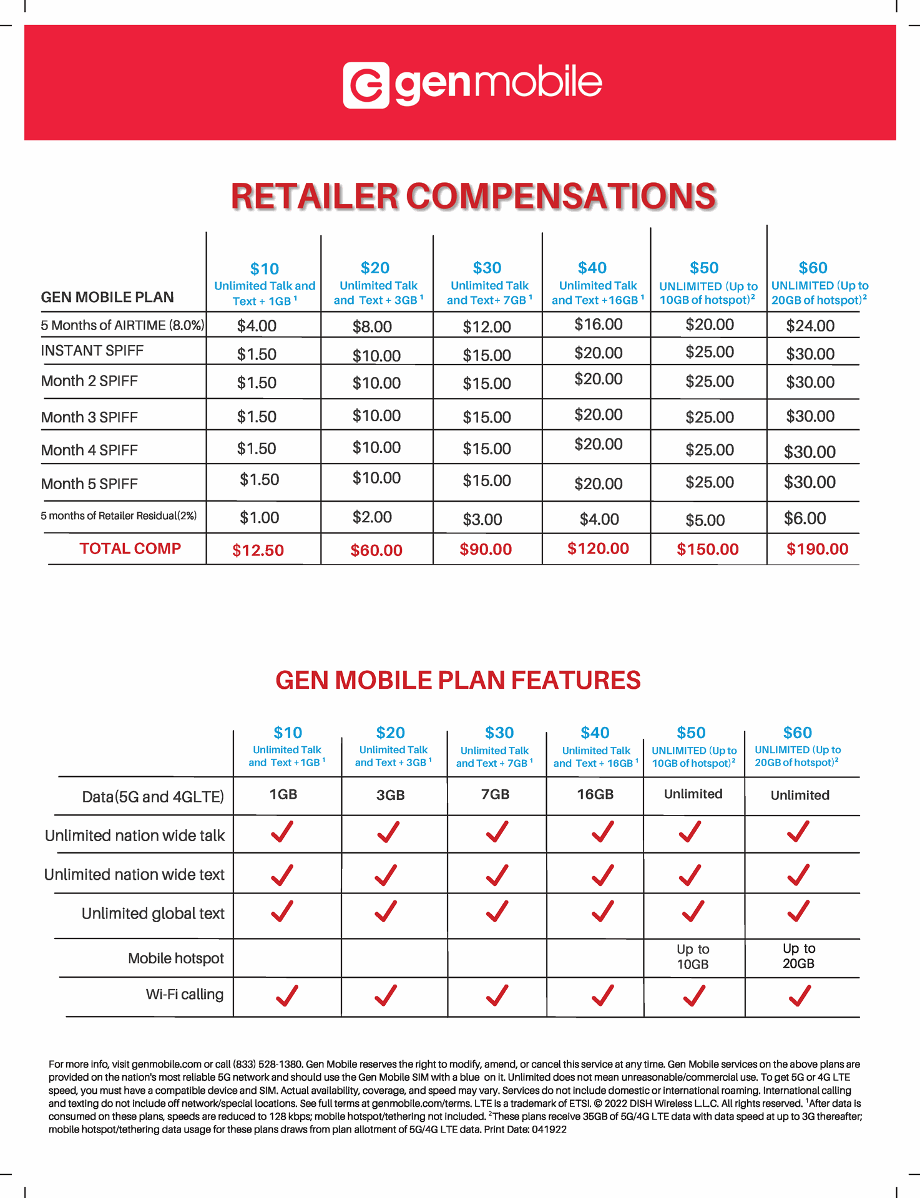 GEN MOBILE BLUE (ATT) APN Settings
Name: Gen Mobile
APN: genmobile.com
Proxy:Not set
Port: Not set
Username: Not set
Password: Not set
Server: Not set
MMSC: http://mmsc.mobile.att.net
MMS Proxy:proxy.mobile.att.net
MMS Port: 80
MCC: 310
MNC: 410
Authentication type: Not set
APN Type: default,mms,supl,hipri
APN protocol: IPv4
APN roaming protocol: IPv4
Bearer: Unspecified
Mobile virtual network operator type: GI
Mobile virtual network operator value: 3420
GEN MOBILE PINK (T-MOBILE) APN Settings
Name: Gen Mobile
APN: pwg
Proxy:
Port:
Username:
Password:
Server:
MMSC: http://pwg.mmsmvno.com/mms/wapenc
MMS Proxy:
MMS Port:
MCC: 310
MNC: 260
NOTE: If your SIM Card # begins with 89012401, the MNC must be set to 240
Affordable Wireless for all Generations
providing affordable wireless access to help bridge the digital divide so all generations can reach their fullest potential
Supporting Local Small Businesses
supporting locally owned retailers that positively impact our communities, families, and consumer choice
Best in Class Customer Experience
unbanked, low-income, and foreign-born consumers deserve a best class customer experience