H2O Wireless
Earn up to 300% MRC when you port-in any number to H2O
Apply NOW to become an Authorized H2O Wireless Retailer.
H2O Wireless Master Agent: Unlimited Prepay Distribution / Vue Communications - (314) 771-5797 - Sales@unlimitedprepay.com
H2O Wireless Dealer Support (800) 939-1261
H2O Wireless SIM Card Activation
H2O Wireless
Login to the dealer portal for the 1st time or reset your password.
H2O ® Wireless offers no-contract wireless services for every need and budget on the nation's largest and most reliable GSM network, AT&T Network. Get unlimited nationwide and international talk and text, data, pay as you go plans and more with phones from every major brand. Or, use H2O Wireless with your existing iPhone, Android or other smartphone with a new H2O® SIM – all with no activation, overages or hidden fees. Consumers get to choose from a wide selection of monthly plans that range from $20 to $75 per month, Data Only Plans, and Pay As You Go Minute Plans. Retailers can earn up to 200% SPIFF, 3% Residual (5% Residual if Retailer signs customers on Auto Refill), and 6% Airtime Margins. All while enjoying the use of the absolute BEST Dealer Portal in the market, H2ODirectNow.com. Just watch some of the video clips below to see some sampling of the Dealer Portal's features.

3G / Non-VoLTE Network Shutdown Troubleshooting Tips

As AT&T continues to shut down the 3G/Non-VoLTE Network, some retailers have been experiencing challenges with some handsets sold to their customers or handsets that the customers brought in.
The issue simply is: The phone either never worked or used to work but stopped working. It displays "Emergency Calls Only" or just scans for a signal but does not find it.
What to do?
These are initial steps that must be taken before reaching out for assistance
Activate an H2O SIM Card on the $10 PayGo MINUTE Plan, and use this SIM card to verify phones that customers bring or phones that you plan on selling with H2O Wireless service to make sure that the phone works on H2O Wireless BEFORE activating a SIM Card for the customer. Your cost is: $5.40 and the service lasts for 90 days.

Always check the phone's IMEI for compatibility with the AT&T Network. Please note that some IMEIs pass this check but still experience difficulties functioning correctly. So, step 1 above helps more. You can find the IMEI check on the dealer portal HDN under the SUPPORT > Device Compatibility menu

Turn the phone ON and connect to your WiFi. Go to the Phone's Settings and check on the Software Updates. If a Software Update is available, Install it.

Due to Network reset issues, you will need to manually enter the H2O Wireless APN settings. If the APN settings are not in the phone or are incorrect, the device will not work. Typically, APN settings in a phone can be found by going to the phone's Settings, Mobile Networks, Access Point Names. The APN Settings are available on HDN under the SUPPORT > Configuration menu, look at the bottom-right of the screen for the APN link. Click Here to get the APN settings. Or see the APN settings picture above.

If you have to enter the APN settings, be accurate and do not make typos at all, remember to Save the new settings and restart the phone.

---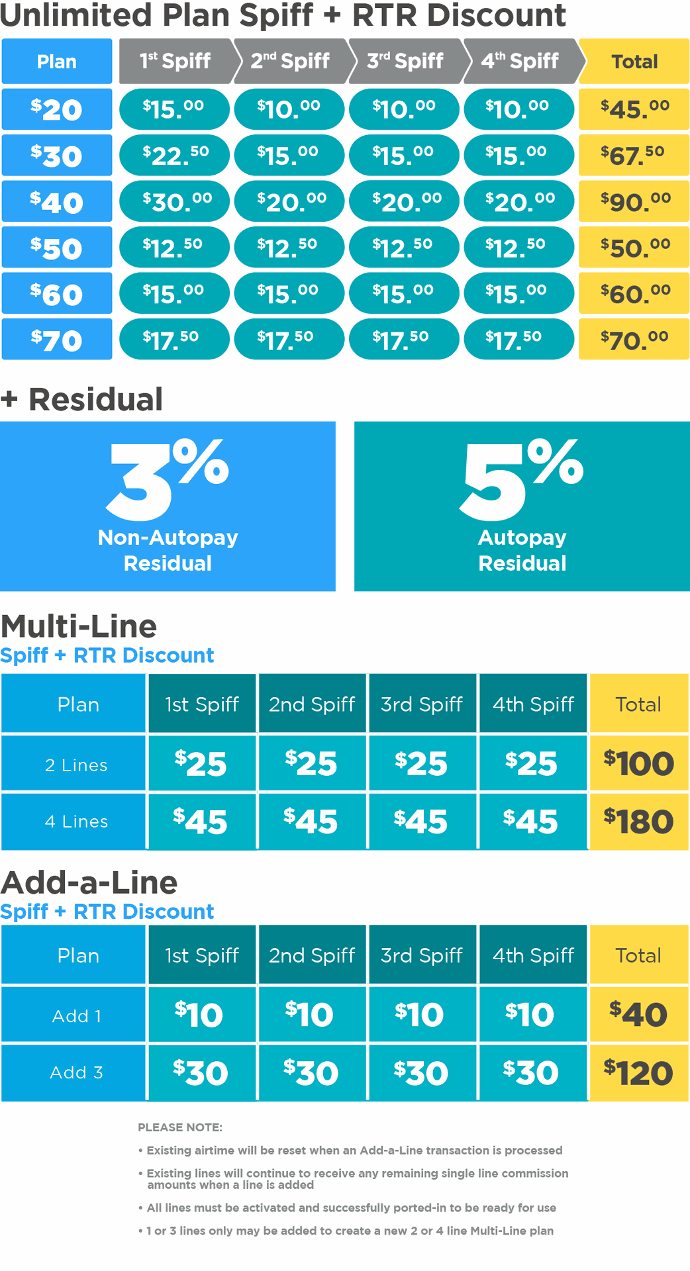 New SPIFF Effective Feb 1, 2022
225% SPIFF on the $20, $30, $40 Plans + 6% Airtime Margin + 3% Residual

Not sure if you're getting full spiff from H2O?

To Receive All Your SPIFF & Residual:

Complete all Activations and Port-ins on H2ODirectNow.com (HDN)

All Refills must be done on H2ODirectNow.com

Or just sign up your customer on Auto Refill & Forget it!!
spiff will not be paid if the activations or
refills were completed outside of HDN.
New Spiff/Residual guidelines effective as of Feb 1, 2022. 1st, 2nd, 3rd, and 4th spiff amounts shown will only be paid if valid H2O ® Wireless Monthly Unlimited Plan activations and recharges are made on or after Feb 1, 2022, up to the maximum Total Spiff + RTR amount shown. 5% Autopay residual requires customers to sign up for Autopay in accordance with the applicable terms and conditions. Spiff/Residual terms applicable for all activations. Plans/rates/fees/promotions/spiff/residual terms subject to change at any time, without notice. By selling H2O® Wireless products, you agree to abide by all terms and conditions, which are available at
www.h2odirectnow.com
.
H2O Wireless Month Plans and International Long Distance