AxiomGlass 9H Screen Protectors - by Axiom Armor - 20 Pack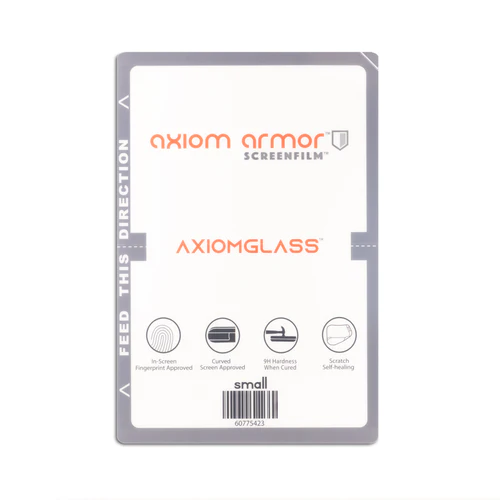 AxiomGlass 9H Screen Protectors - by Axiom Armor - 20 Pack
---
Description:
Similar to our Classic ScreenFilm™, our AxiomGlass™ is a UV Cured, 9H screen protector!
AxiomGlass™ also applies with the same process as our Classic ScreenFilm™, but after UV curing becomes as strong as 9H tempered glass, but does not shatter like tempered glass!
It also installs with the same process as our Classic ScreenFilm™, but after installation goes into a UV curing machine to attain a 9H hardness, just like tempered glass! But the best part is that
AxiomGlass™ WILL NOT CRACK like tempered glass. It also has supreme oleophobic fingerprint resistance to keep your device as fingerprint free as possible.
Perfect for phones and protects against premature wear, scratches and damage. It is fully compatible with curved screens and in-screen fingerprint readers.
AxiomGlass™ is a chemically-enhanced material whose properties include scratch resistance as well as oil and grease resistance and increased toughness.
AxiomGlass™ provides great impact protection in an invisible way. It's also nice to the touch and feels like glass, which allows input devices such as Samsung's S-Pen and Apple's Apple Pencil to glide across the surface area without resistance.
REQUIRES UV CURING MACHINE (sold separately) TO CURE TO 9H HARDNESS!

Do not use on interior screen on any folding device, or any non-glass screen.

If you already have a 

strong

 lamp UV curing machine, it should work fine with AxiomGlass™


*0.14mm thickness 
*Sold in Packs of 20 
*Requires Axiom Armor™ ScreenFilm™ system & UV Curing Machine.