Unlimited Prepay Distribution - GenMobile Master Agent
About Gen Mobile
Gen Mobile is a U.S prepaid mobile carrier with a mission to help consumers of all generations stay affordably connected to friends and family around the world. With plans starting at $10 per month, we strive to offer you the best deal in wireless with our BYOD program.
Gen Mobile reimagined connectivity for all of customers, delivering high-quality, low-cost wireless services to an underserved market segment. Together with DISH Network and its first-of-its-kind cloud-native 5G network, Gen Mobile will upend the retail wireless market and create groundbreaking new experiences for all.
GenMobile's mission is to help people stay affordably connected to the world with low-cost nationwide & int'l mobile plans. With $10 nationwide calling and data plans, Gen Mobile helps customers save by paying only for what they use. Plans $15 and up include free unlimited calling to 100+ countries, unlimited global texting and data. Gen Mobile makes keeping in touch with your loved ones around the world simple and easy with direct dial international calling. That's direct dial international — there is no special phone to buy, no calling apps to download, no VOIP calling, no nonsense! Check out the list of free unlimited countries, just scroll down on this page.
Apply NOW to become GenMobile Authorized Retailer
Unlimited Prepay Distribution - (314) 771-5797 - Sales@unlimitedprepay.com
GenMobile Dealer Support Line: (833) 436-6624 - Office Hours: 7am - 5:30pm PST - email: dealer@genmobile.com
Please Note: PIN/Password of Customer is Required
Training Videos & Documents for GenMobile on Epay
GenMobile New Number Activation on Epay
GenMobile Number Port-in on Epay

GenMobile PINK Plans

GenMobile BLUE Plans
GenMobile BLUE (AT&T Network) Month Plans

GenMobile BLUE (AT&T Network) Month Plans - Activate on AT&T Compatible and Unlocked GSM Devices
| | | | | | | |
| --- | --- | --- | --- | --- | --- | --- |
| Plan | $10 | $20 | $30 | $40 | $50 | $60 |
| Talk & Text | UNLIMITED | UNLIMITED | UNLIMITED | UNLIMITED | UNLIMITED | UNLIMITED |
| Data | 1GB | 3GB | 7GB | 16GB | 35GB | 35GB |
| Hotspot | | | | | 10GB | 20GB |
| ILD | | Unlimited Calling to Mexico & Canada | Unlimited Calling to Mexico & Canada | Unlimited Calling to Mexico & Canada | Unlimited Calling to Mexico & Canada | Unlimited Calling to Mexico & Canada |
GenMobile BLUE (AT&T Network) Dealer Compensation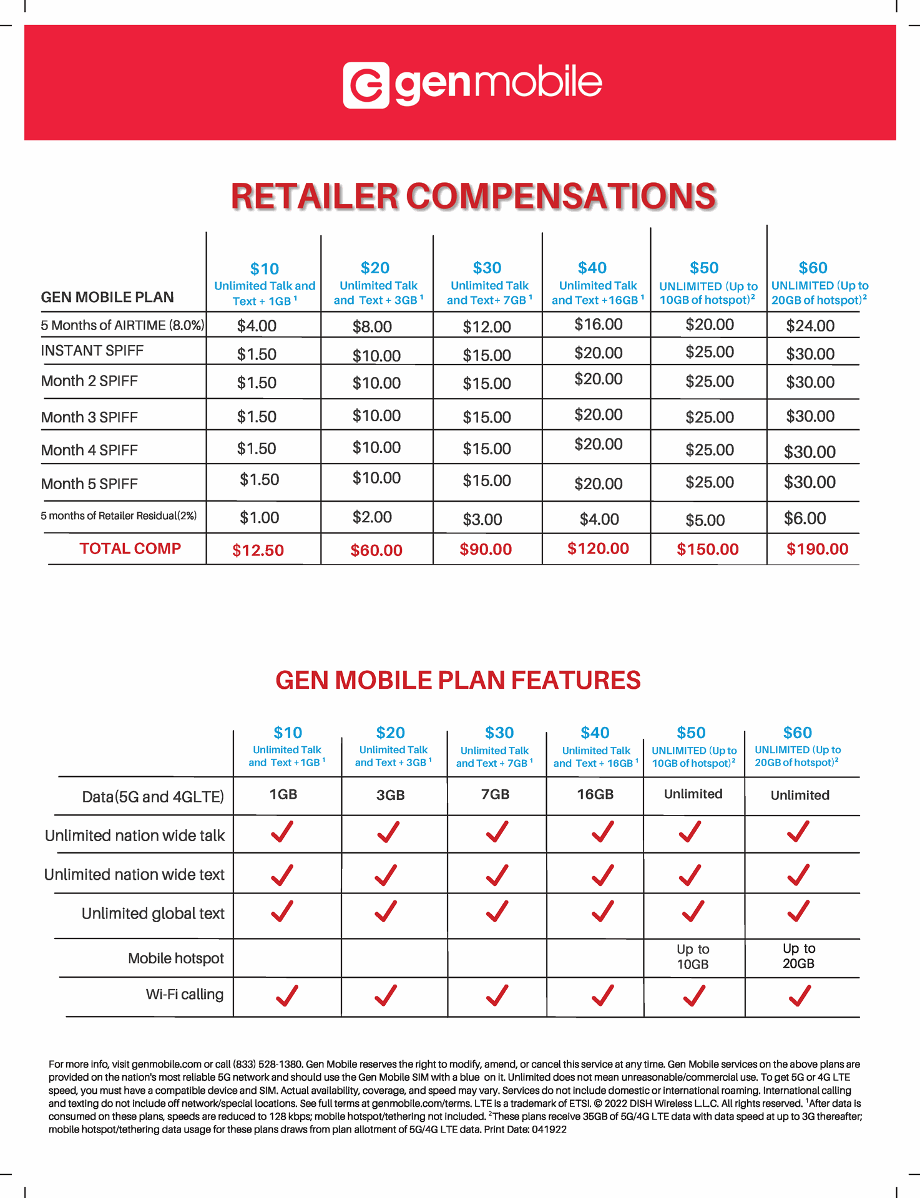 Dealer Compensation - Up to 250% Commission, 2% Residual & 8% Airtime Margin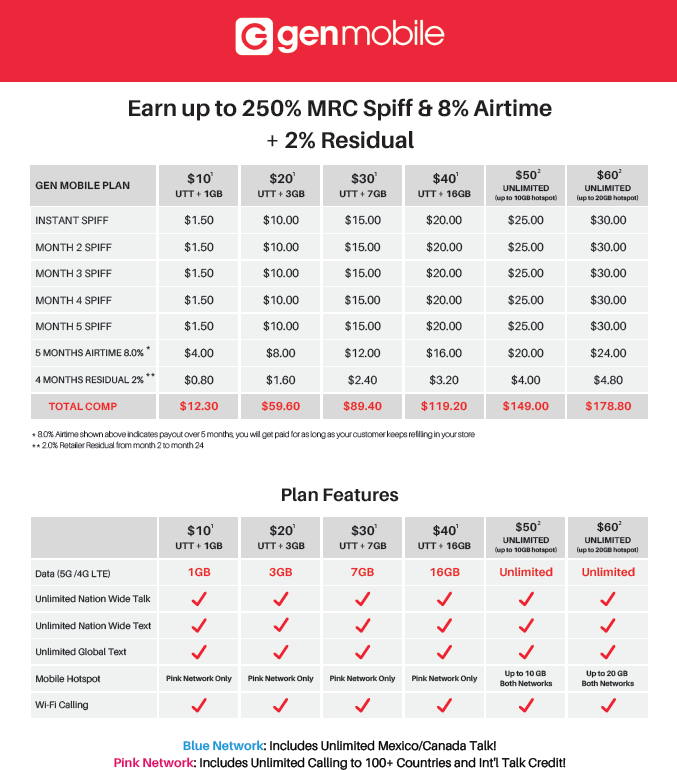 GenMobile SIM Activation on Vidapay
GenMobile Refills/Top Ups on Vidapay
Affordable Wireless for all Generations
providing affordable wireless access to help bridge the digital divide so all generations can reach their fullest potential
Supporting Local Small Businesses
supporting locally owned retailers that positively impact our communities, families, and consumer choice
Best in Class Customer Experience
unbanked, low-income, and foreign-born consumers deserve a best class customer experience